Welcome to the Mill District Neighborhood
Welcome to the Mill District Neighborhood
Located in Minneapolis's historic Mill District, Forte on the Park is just blocks away from Guthrie Theater and the Mill City Farmer's Market. Residents of this district appreciate the more laid-back experience provided by spacious riverfront biking and walking trails that run along and across the Mississippi River and around Historic Mill Ruins Park. The neighborhood significantly overlaps Downtown East, where a scenic 1/3 mile "river walk" complements one of Minneapolis' most famous film festivals: The Walker Art Center Film Festival. The neighborhood still contains several former flour mills leftover from when Minneapolis was the flour milling capital of the world, giving Mill District the historic charm everyone knows and loves.

Rotating Artist Program

The rotating art program at Forte on the Park is part of this overall mission - to bring affordable approachable, relatable artworks to the people - right inside their space - their mailroom! Residents are surrounded by new art every quarter while they open letters, sort solicitations, receive packages, and look for something inspiring. If inspiration is not in the mailbox, it certainly will be on the walls.

Each rotating art piece is hand-selected from local artists throughout the city. Some of them work in studios right across the river from the Forte, and others are working in studios right down the street. This program features the best of Minneapolis.

The permanent collection at Forte on the Park was created with the same values; here is a quote from the Nolo Art Consulting group responsible for the pieces throughout the community:




"We are striving for a look that feels like someone's personal collection that has been curated over many years. Artworks have been acquired through travel to a myriad of countries with a deep interest in other cultures.

Our collectors are thoughtful, curious, and possess an intrepid spirit for whom rich and varied experiences are far more important than any possession they own.

Each artwork in this collection is connected to a special place discovered far off from the main road; something treasured and forever reminding us to keep our minds and eyes open to the possibilities that lie in front of us both abroad and at home" -

Nolo Art Consulting.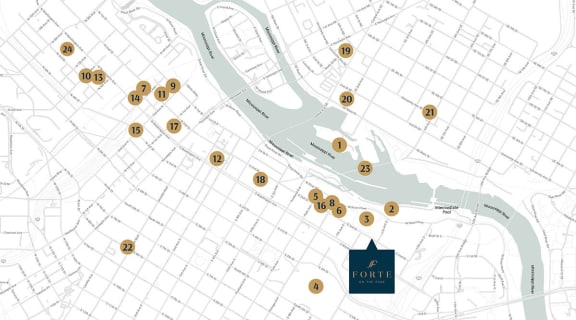 Our Local Favorites
Forte on the Park's Historical Connection to Mill District's Landscape
During the construction of Forte on the Park, we wanted to explore Mill District's past landscape, industries, and entertainment to incorporate these well-known brands and locations into the building. These locations reflect the memories of Minnesotans and their families, making our amenity space names relatable for anyone that feels a little Minnesota pride, even if they're new to the area.
| | | |
| --- | --- | --- |
| Mill City Studio (Makers Studio) | Gold Medal Spa (Pet Spa) | Landmark Deck (Pool Deck) |
| Nicollet Club (Clubroom) | Mississippi Lounge (Work From Home) | North Star Deck (Sky Terrace) |